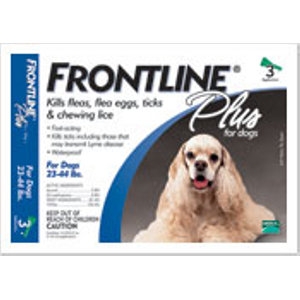 FRONTLINE Plus
Manufacturer: Merial Frontline Flea & Tick Protection
Take good care of your pets. Help keep them healthy and happy by providing preventative care starting with flea and tick control.
FRONTLINE Plus killed 100% of fleas within 12 hours of application.
Long lasting: continues to kill fleas and ticks all month long.
Approved for use on puppies and kittens 8 weeks of age and older and on breeding, pregnant or lactating cats and dogs.
Waterproof: effective even after swimming, bathing and grooming.