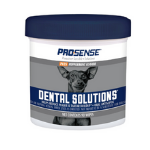 Dental Soultions Wipes 
Pra·Sense Plus Dental Solutions wipes provide antiseptic oral care & help freshen breath when used regularly. These wipes are suitable for dogs of all sizes and safe to use daily.
Help reduce plaque & tartar buildup*
Oral antiseptic
*Based on wiping action. When used as directed. Not meant to be a substitute for brushing.
This product is for dogs only for dental hygiene. Gently wipe pet's teeth and gums with pads. Use additional pads as needed to clean the entire mouth. If irritation develops, stop use and seek veterinary care.