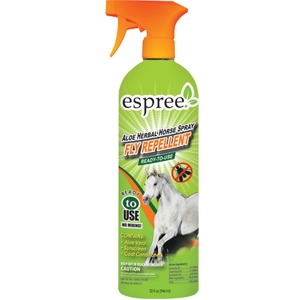 Espree Animal Products Aloe Herbal Horse Spray 32 oz Ready to Use
EPA registered fly repellent with essential oils - Horse Journal Top Pick! A gentle, effective, pesticide free spray with coat conditioners and sunscreen formulated to aid in the control of insect related skin problems. Safe for use in barn and stall areas.
Available in Concentrate (5:1 diution) or Ready to Use formulas. Contains Cedarwood Oil, Citronella Oil, Eucalyptus Oil. Insect Related Skin Problems. Coat Conditioner & Sunscreen. Safe for Barns and Stalls.